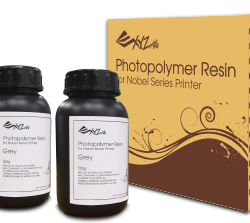 The XYZprinting Noble 1.0 Resin is available in the colors clear, white, grey, blue and magenta. Each packages contains 2 x 500ml Bottles that can used with the Noble 1.0 3D Printer. Install the resin in just three simple steps!: Replace the cap, insert the bottle, and connect the tube. The printer will then detect the color, material, and remaining level of the resin, and automatically fill the tank and fine-tune the laser parameters to accurately print your design in all of its intricate detail.
Safety warning: we recommend that everyone using the Nobel 1.0 read the safety instruction thoroughly.
Recommended retail price: 170 EUR
Recommended Temperature for Storage
15-27°C (59-80°F)Avoid keeping the resin in environments exceeding 60°C (140°F)
Operating Temperature
18-35°C (64.4-95°F)
Net Weight
500ml/bottle. This package contains 2 bottles for a total of 1 L (1000ml)
Gross Weight
1,3 kg
Important Safety Notices

Heating of this product is strictly prohibited. Photopolymer resins may generate vapors that may cause discomfort when subject to high temperatures.
Please keep the product in a well-ventilated space out of children's reach.
Avoid skin or eye contact with the uncured resin. If accidental contact occurs, please immediately rinse the affected area thoroughly using clean water.
Uncured resin in the tank may be solidify if exposed to sunlight before disposal. Therefore, be mindful when discarding uncured resin and do not pour material directly into the sink.
After printing, any uncured resin on the surface of the printed object must be cleaned away using alcohol.