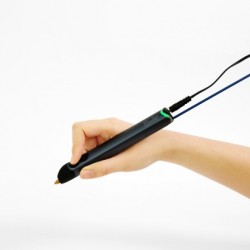 The 3Doodler is the world's first manual 3D pen. It can be used to draw things in 3D. The 3Doodler is easy to use, and allows the user to literally draw in the air – "whether freestyle 3D sketching or tracing shapes from templates to make larger structures and objects." 3Doodler Create is Wobble Work's third edition of the popular 3D pen, and it works in the same way as its predecessors, just better!
On The 3Doodler's website users can become a part of the 3Doodler online community. There they can communicate with each other, download stencils and share pictures of their own creations.
Included with the 3Doodler Create are two packs (50 strands) of color plastic (material and colors may vary), cleaning tools, a power cable and a user manual in English (manuals in Scandinavian languages will be available through the website).
Recommended retail price: 119 EUR
Size
About the size of a marker
Package size: 12,8 x 7,8 x 28,7 cm
Weight (package)
590,5 g
Materials
ABS/PLA/FLEXY
Safety
Not suitable for unattended use by children under 14 as the nozzle can get as hot as 240°C
Speed
Two possibilities: fast & slow
Power supply
Country-appropriate plug, 1,8m long cable